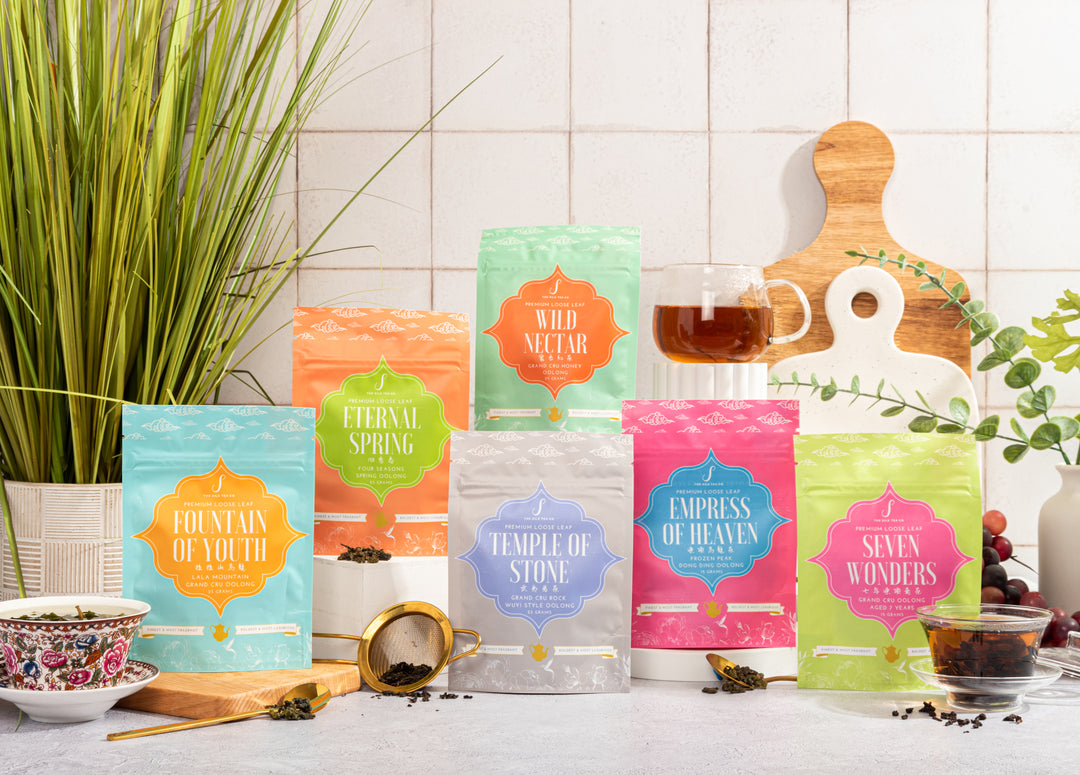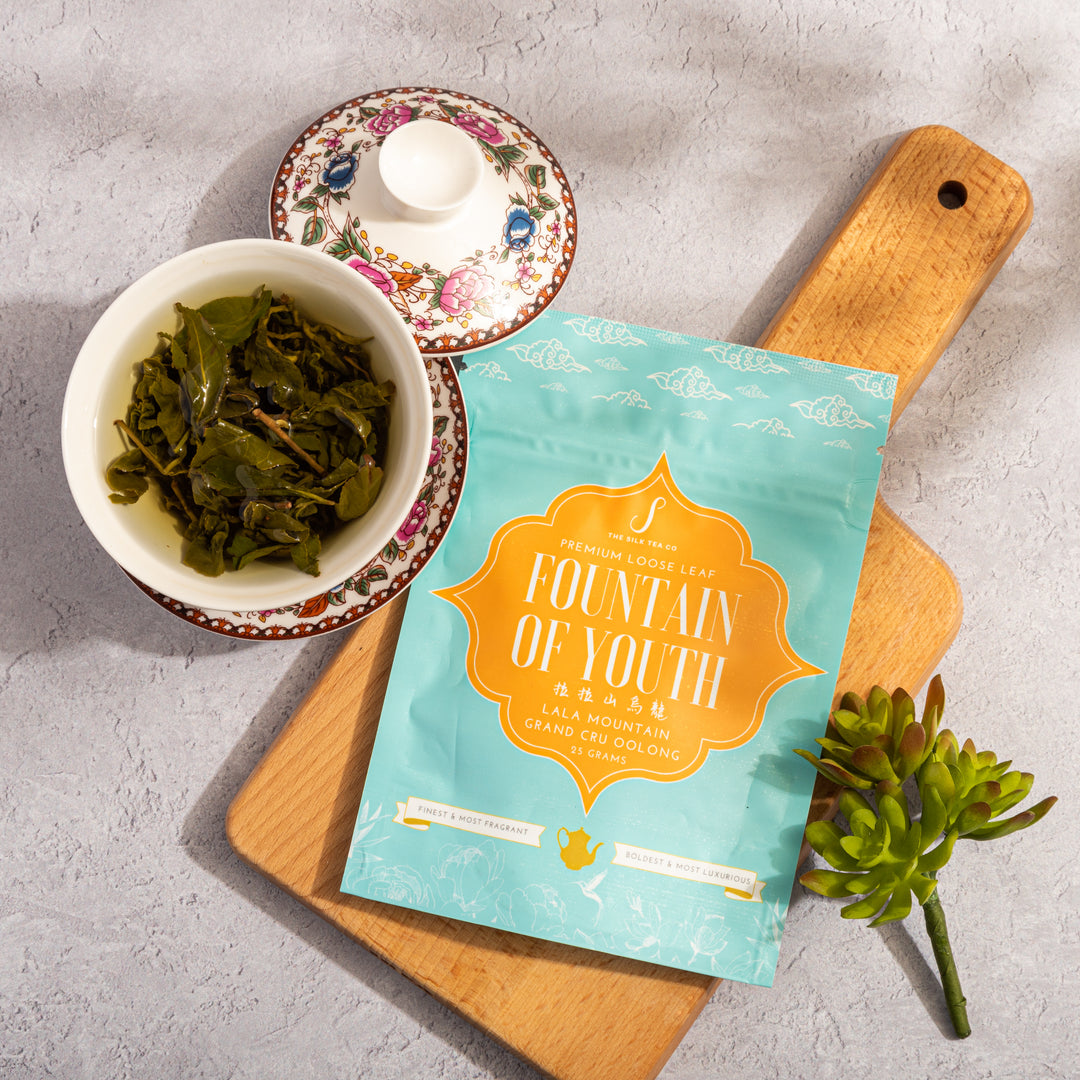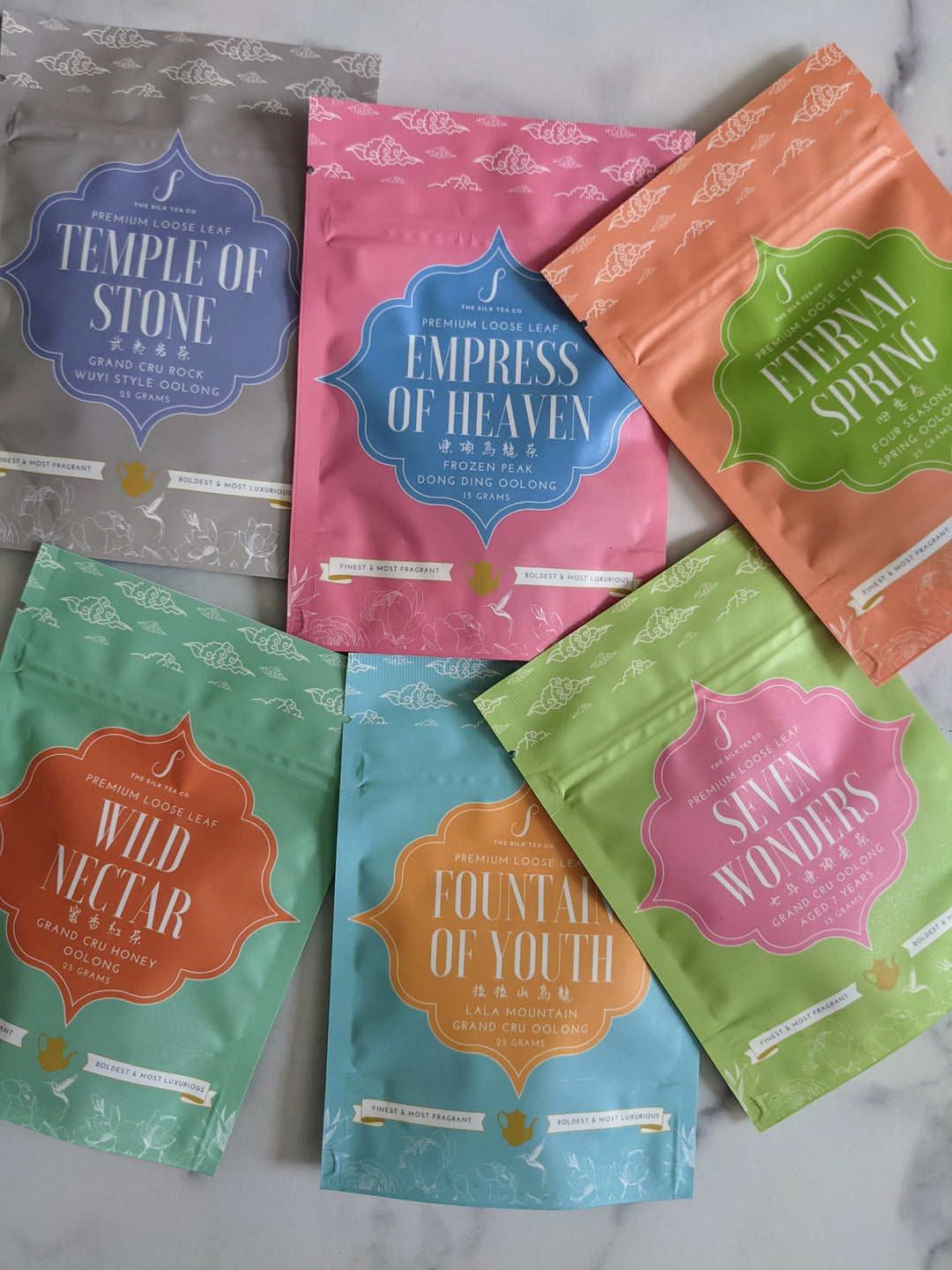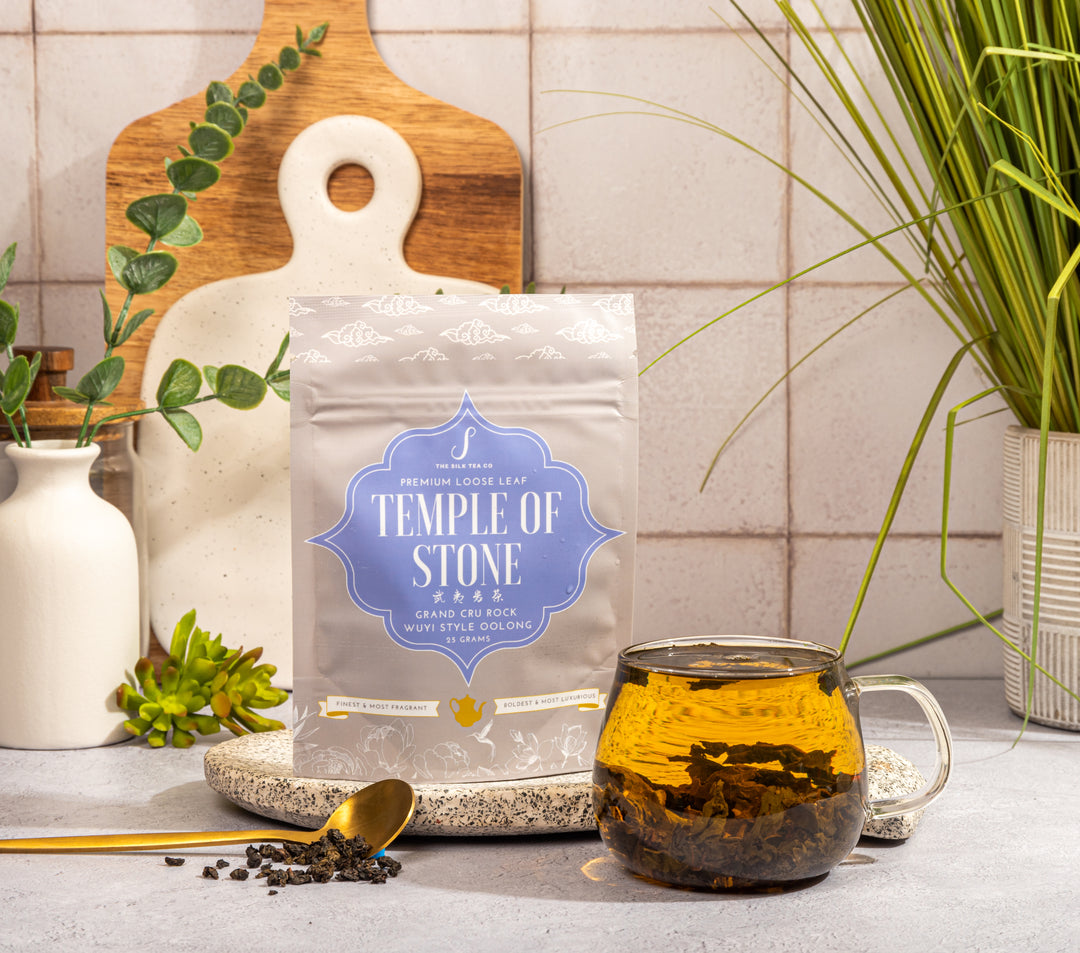 Oolong Passport Collection: Six Single Origin Oolongs in a Limited Edition Set
---
In stock, ready to ship

Inventory on the way
Shop our exclusive, limited edition Oolong Passport Collection from now through June 15! To celebrate this launch, we're giving away a free gift of two gaiwan-shaped coasters from Tea Thoughts and a special letterpress card from @wearemoonee included with each shipment while supplies last!* 
Sip your way through an exquisite tea tasting journey of six single origin varietals with our Oolong Passport Collection, featuring six different Taiwanese oolongs in a convenient sampler pack shipped in our signature silky reusable Silk Tea drawstring satchel. Experience a delicious selection of dreamy varietals, expertly cultivated and prepared to tantalize your senses. Each of the six oolongs offer an enriching tasting experience of some of Taiwan's finest oolongs.
Indulge in a truly luxurious tea-drinking experience with these six special selections:
Seven Wonders Grand Cru Oolong (15 grams): Produced by a seventh generation roaster whose Ancestors brought the original Soft Stem Oolong from Fujian, China to Taiwan over 110 years ago. This family is among the first to cultivate tea in this region. A father-son duo keep precious tradition alive with a mastery of fire learned over a lifetime. They use longan wood to impart an unforgettable flavor. Reddish in color, this precious oolong was roasted once annually for seven years — so it has been aged to perfection. Boil water to 200°F / 95°C steep 1 teaspoon (2-3 grams) in 6 oz (180 ml) for 45 seconds-1 minute. Be sure to re-steep 8-10+ times or more — longer each time — to fully enjoy the range of delicious flavors.   
Empress of Heaven Frozen Peak Dong Ding Oolong (15 grams): Sip your way to paradise. Selected as a part of this special tasting journey so that you may compare this tea with our exquisitely aged Seven Wonders Grand Cru. Both are of the same cultivar. This Empress of Heaven oolong is lightly roasted and offers a soft butter color and a flirtatious floral bouquet for the senses. It has a tantalizing creaminess and a long, elegant finish that lingers on the tongue. Steep 1 teaspoon (3 grams) per 6 oz (180 ml) of water at 195°F (90 °C) for 45 seconds. Re-steep briefly 5-6+ times and enjoy the journey.
Fountain of Youth Lala Mountain Grand Cru Oolong (25 grams): This wild tea is grown at very high elevation (1700 meters) in rich red soil with an abundance of sunshine, moonlight, clouds, and mist on Lala Mountain. The care of loving farmers yields this precious Chin Shin cultivar, which produces a delicate liquor that slips down your throat like silk. Lightly oxidized, this is a medium body tea that lingers with notes of freshly pressed sugarcane and sweet grass. Steep 1 teaspoon (2-3 grams) in 6 oz (180 ml) of water at 200°F / 95°C for 45 seconds. Flavors will unfurl as you re-steep to your liking 5-7+ times.
Wild Nectar Grand Cru Oolong (25 grams): This prized, almost black oolong is one of nature's most fascinating love stories. Cultivated at a high elevation (1200 meters above sea level) on an all-natural tea estate with no chemicals in Taiwan's freshest air, this tea is love-bitten by leaf hoppers. Leaf hoppers are a blessing on the local tea farms. They sweeten young tea leaves when they munch on the plant sap. This batch is hand-harvested and carefully oxidized. It  unfurls soft, honeyed floral notes. Steep 1 teaspoon (3 grams) in 6 oz (180 ml) of water at 200°F / 95°C for 1 minute, re-steep 3-5+ times, a bit longer each time to fully enjoy the sweet osmanthus, honey, and caramel notes. 
Eternal Spring Oolong (25 grams): This is a daily delight. Our Eternal Spring oolong is cultivated on an all-natural farm, where strong bushes yield new harvests all year long with consistent high quality tea. This soft, fresh oolong is traditionally rolled and is lightly oxidized. Once steeped, it blooms with a scent of wildflowers, a hint of melon, and a twist of fresh citron. Perfect for savory food and lovely when iced. Steep 1 teaspoon (3 grams) in 6 oz (180 ml) of water at 195°F / 90°C for 45 seconds. Re-steep to your liking and enjoy 3-5 times or more.
Temple of Stone Grand Cru Rock Wuyi Style Oolong  (25 grams): Precious and increasingly rare to find, this grand cru Wuyi style oolong from Yilan, Taiwan is a delicious meditation in layers of flavor. Originating in Fujian province in China, this cultivar has been kept alive thanks to knowledge passed down between generations of tea farmers. As you steep and sip, consider all the ways your senses can enjoy this special single origin tea while you celebrate self care. Steep 1 teaspoon (3 grams) per 6 oz (180 ml) of water at 212°F (100°C) for 75 seconds. Re-steep 7-8+ times or more.
Preparation & steeping instructions
Each bag has specific temperature guidance as specified above. You can enjoy these oolongs steeping them just like loose leaf tea or exploring the traditional rituals of gaiwan brewing. 
*These gifts have a total value of $12 USD and do not require any promotional code. They will be automatically included with each shipment while supplies last.
Use collapsible tabs for more detailed information that will help customers make a purchasing decision.
Ex: Shipping and return policies, size guides, and other common questions.